Karla Leeper
---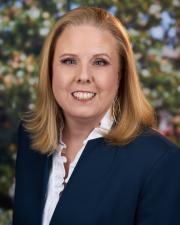 Vice Chancellor for Strategic Communications and Public Affairs
Contact Info
230 Strong Hall
Lawrence
1450 Jayhawk Boulevard
Lawrence, KS 66044
---
Biography
—
Karla Leeper serves as the university's vice chancellor for strategic communications and public affairs. In this role, she serves as a senior advisor to Chancellor Girod and the university's leadership team on issues of communications and public affairs. She oversees all messaging to advance KU's interests at the local, state and national levels, and she has responsibility for marketing, branding, internal and external communications, and message integration across all KU campuses, affiliates and partners.
Prior to joining KU, Karla served as the executive vice president for operations at Augusta University/Augusta University Health System in Georgia, where she oversaw marketing and communications, facilities and human resources. Prior to that, from 2015-18 she served as the institution's executive vice president for strategic communication and chief marketing officer.
Before joining Augusta University, she served as a tenured faculty member, vice president for board and executive affairs, and chief of staff to the president at Baylor University.
She received her doctorate and master's degrees from KU and her bachelor's degree from the University of Iowa.