Dave Cook
---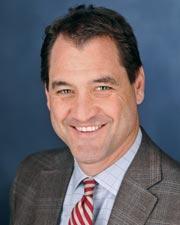 Vice Chancellor for Public Affairs and Economic Development
Contact Info
Strong Hall
Lawrence
1450 Jayhawk Blvd.
Lawrence, KS 66045
---
Biography
—
As vice chancellor for public affairs and economic development, Dave serves as senior advisor to the chancellor and the university's leadership team on issues of communications, public affairs and economic development. He will oversee all messaging, outreach and government relations to advance KU's interests at the local, state and national levels. He has responsibility for internal and external communications and message integration across all KU campuses, affiliates and partners. And he coordinates our economic development efforts with an initial focus on chamber and industry relations and workforce development issues.
Dave's background in higher education policy, public affairs and workforce development make him an ideal fit for this position. Moreover, his experience across multiple KU campuses and his relationships with key partners enable him to advance our efforts to elevate KU's status, attract top students and scholars, and improve in every aspect of our mission.
As vice chancellor of the Edwards campus since 2013, Dave had been chief executive officer of the campus, launched a new instruction site in Leavenworth, and overseen Professional & Continuing Education. Additionally, he developed extensive relationships with industry leaders, workforce development groups, elected officials and community colleges. Under his leadership, the campus increased enrollment by 36 percent and launched 16 new academic degree programs and 21 new academic certificates leveraging traditional, hybrid and online models.
Dave first earned tenure as a faculty member in the KU School of Medicine. He is now a full professor in the College of Liberal Arts and Sciences.